Are you looking for a new way to experience the great outdoors during your next hiking trip? Consider trying barefoot hiking shoes, which offer the ultimate flexibility and freedom of movement while protecting your feet with grippy outsoles at the same time. In this guide, we will explore the best barefoot hiking shoes of 2023, as well as provide recommendations for beginners and explain what to look for when choosing the right pair of shoes. So, let's dive in!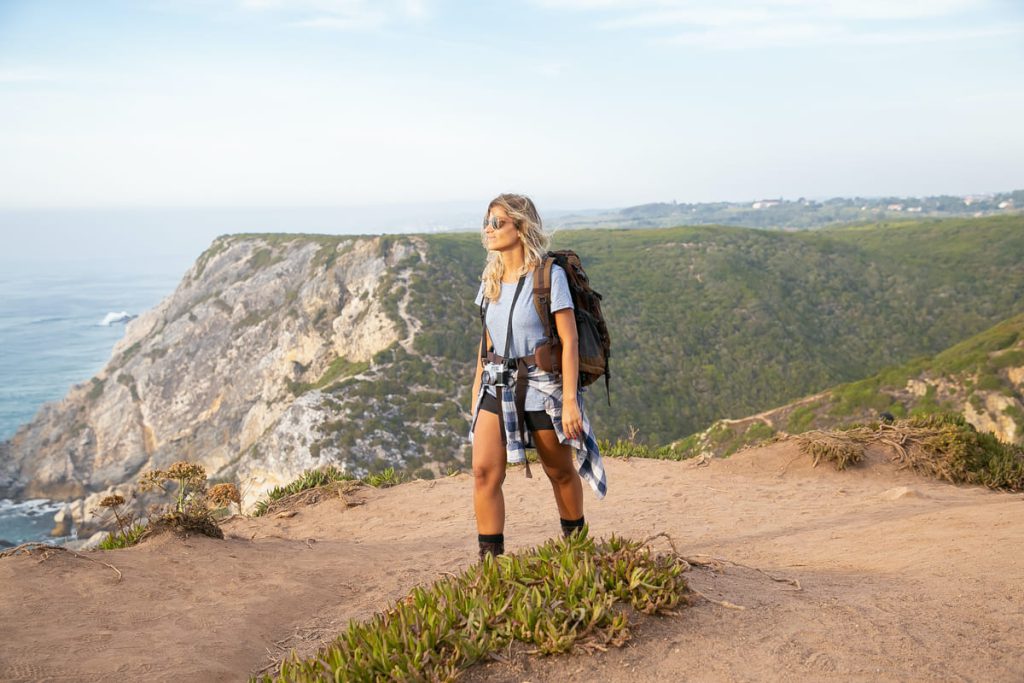 What are Barefoot Hiking Shoes?
Barefoot hiking shoes, also known as minimalist hiking shoes, are designed to mimic the feeling of walking barefoot while still protecting your feet. These shoes have a few key features that set them apart from traditional hiking shoes, including:
No heel-to-toe drop: Traditional hiking shoes have more cushion under the heel than the toe, making the heel of your foot slightly elevated. Barefoot hiking shoes have no such drop, allowing your foot to sit flat on the ground.
Wide toe box: The toe area of barefoot hiking shoes is wider than other shoes, allowing your toes to spread out more.
Minimal padding, support, and cushioning: Traditional shoes have higher stack height (the amount of cushion between your foot and the ground), arch support, and ankle support. Barefoot hiking shoes will have very little, if any, of this.
These features allow your feet to be in a more natural state, which can improve balance, agility, and overall foot health. You can learn more in our longer article: What Are Barefoot Shoes
Benefits of Barefoot Hiking Shoes
There are several benefits to wearing barefoot hiking shoes while out on the trails:
Improved balance and agility: Without the added support and cushioning of traditional hiking shoes, your feet and ankles are forced to work harder to maintain balance and control. This can improve overall balance and agility over time.
Better foot health: Traditional hiking shoes can sometimes cause foot problems like blisters, calluses, and plantar fasciitis. Barefoot hiking shoes encourage your feet to move more naturally, which can improve foot health and prevent these issues.
Enhanced sensory feedback: Barefoot hiking shoes allow you to feel the ground beneath your feet more directly, improving your connection to the trail and enhancing your overall hiking experience.
You can find more information in our comprehensive article: The Benefits of Barefoot Shoes
Our Top Picks for Barefoot Hiking Shoes in 2023
1. Vivobarefoot Primus Trail Knit
Our top pick for both men and women is the Vivobarefoot Primus Trail Knit. This vegan-friendly shoe is both breathable and flexible, with a ground feel that allows you to connect with the trail. The shoe is built to last and offers great traction, making it suitable for a variety of terrain types.
2. Vibram Five Fingers
The Vibram Five Fingers shoe is a unique option that allows your toes to move and spread out more freely than other barefoot hiking shoes. The shoe features a Vibram grip, an EVA insole, and stretch bungee lacing for added comfort and support.
3. Xero Shoes Xcursion
The Xero Shoes Xcursion is a great option for those looking for a more traditional-looking hiking shoe. It offers a great grip, is fully waterproof, and comes in half sizes for a more customized fit.
4. Xero Shoes Z-Trail
The Xero Shoes Z-Trail is a versatile option that can be used for hiking, running, or even just walking around town. It is ultra-flexible and lightweight, with a fast-drying design that makes it perfect for water crossings.
5. Merrell Trail Glove 6
The Merrell Trail Glove 6 is a great option for those who want a barefoot feel but still want a bit of cushioning. The shoe features Vibram outsoles and comes in various colors for both men and women.
6. Vivobarefoot Tracker II
The Vivobarefoot Tracker II is a waterproof, thermal hiking boot that is both lightweight and tough. It offers a wide fit and removable insole for added customization.
7. Vivobarefoot Tracker Forest
The Vivobarefoot Tracker Forest features a Michelin outsole and off-trail lug design that maximizes the ground feel. The shoe is also breathable and water-resistant, making it suitable for a variety of conditions.
8. New Balance 10V1 Minimus
The New Balance 10V1 Minimus is a good value option that features a Vibram sole and comes in half and wide sizes for a more customized fit. It is odor-resistant and provides an intuitive feel for the trail.
Things to Consider When Choosing Barefoot Hiking Shoes
When choosing the right pair of barefoot hiking shoes, there are a few key factors to consider:
1. Terrain
Consider the type of terrain you will be hiking on. If you will be on rocky terrain, you may want a shoe with more grip and protection. If you will be hiking in wet conditions, look for a shoe that is waterproof or water-resistant.
2. Fit
Fit is crucial when it comes to barefoot hiking shoes. Look for a shoe that offers a snug fit without being too tight. You may also want to consider a shoe that comes in half sizes or offers a wider fit if you have wider feet.
3. Durability
Barefoot hiking shoes are often designed to be minimalist, which means they may not have as much padding or support as traditional hiking shoes. Look for a shoe that is built to last and can withstand the wear and tear of the trail.
4. Comfort
Comfort is key when it comes to hiking, and barefoot hiking shoes are no exception. Look for a shoe that offers enough cushioning to keep your feet comfortable without sacrificing ground feel.
Frequently Asked Questions
Are barefoot hiking shoes good for beginners?
Barefoot hiking shoes can be an excellent option for beginners, as they encourage a more natural foot movement and can improve balance and agility over time. However, it's important to start slowly and gradually increase the amount of time you spend in barefoot hiking shoes to avoid injury.
Can barefoot hiking shoes be worn in all weather conditions?
While some barefoot hiking shoes are waterproof or water-resistant, they may not be suitable for all weather conditions. It's important to consider the conditions you will be hiking in and choose a shoe that is appropriate for those conditions.
Do barefoot hiking shoes require special care?
Barefoot hiking shoes may require special care, such as hand washing or air drying. Be sure to follow the manufacturer's care instructions to ensure your shoes last as long as possible.
Conclusion
Barefoot hiking shoes offer a unique and rewarding way to experience the great outdoors. Whether you're a seasoned pro or a beginner, there is a barefoot hiking shoe out there that is perfect for you. Consider the factors we've outlined in this guide, and don't be afraid to try a few different options before settling on the perfect pair. Happy hiking!